Keeping up with the Christmas Jones'
It's that magical time of year, where the crisp frosty mornings spark hopes of snow. Trees are starting to pop up in windows dazzling onlookers with the sparkle, twinkle and (themed) decs.
Doors of advent calendars are being eagerly ripped open and squeals of countdowns to the big day are ever increasing, the Argos/Smyth's/Toy 'R' us catalogues are being earmarked with festive wishes and added to the long list to Santa. Booze is being bought in by the vat load ready for the first mornings tipple of bucks fizz/Prosecco, wine is being mulled, hot chocolates are being 'spiced' and festive cocktails are being concocted as bucket loads of chocolates are being snaffled.
It's great – it's magical, it doesn't need anything else to make it any more wonderful as it is – because to be fair it's just for one day, sounds a bit bah humbug as there's plenty more to the Christmas holidays than Christmas day itself but you know what I mean.
So why on earth does the countdown to Christmas now have to become such an event!! I have two small boys, getting a piece of chocolate every day is exciting enough nevermind the premise of presents on Christmas day. So why is my feed littered with the 'must have' build up to the most 'perfect' Christmas EVER – in fact sod Christmas day itself, lets make the whole 24 days leading up to Christmas just as fricking magical.
Is anyone else thinking that there is too much pressure to make everything perfect and magical? – that just having an advent calendar is not enough and that measely token of a festive gesture in itself makes you a failure as a parent.
I'm not being all scrooge about it all as I love Christmas, I'm all up for festive days out, playing the Christmas tunes as we decorate the tree and stuff copious amounts of mince pies into our faces, donning our Santa hats as we go for a family stroll into town or to order the turkey. I have enough tubs of glitter and festive stickers that would make an elf shit itself with excitement.
However I am scrooging on the idea that for Christmas to be truly magical I need to be sticking a creepy assed elf in various hilarious situtions – whereby I am teaching my children that it's perfectly acceptable to be naughty mischievous because the sodding elf does it and he reports to Father Christmas. Not only that but I must have 24 books expertly wrapped in a Pinterest perfect manner so they can opened every day and read together (we do that anyway – the reading, not the wrapping up of books),
Then I need to be coordinating sending a letter to Santa so we can have our personal one in return – because what makes Christmas even more magical is a company charging you to have fancy printed letters from the big man himself – or even if it was free, can these people really cope with the demand and will every child get a reply? And then I will need to get my festive craft on and design the most festive of Christmas eve boxes which I will fill with chocolates, new pajamas and whatever other magical goodies are supposed to be in it.
What happened to the plain old excitement of putting a mince pie and carrot out on Christmas eve and literally losing it the next day in awe and wonder at the fact there's a bite mark, half a carrot and a shit load of presents?
I don't know about you but I think it's just getting a little too crazy, are we saying that Christmas isn't magical enough unless we all have matching Pj's on Christmas eve as we sup our hot chocolates and sing Christmas songs.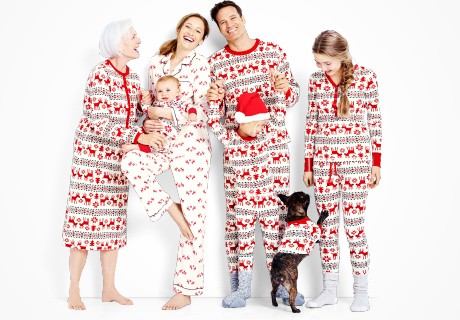 I get that you wouldn't be doing all of these all in one go – would you? please don't tell me there are some of you out there that are doing all of the above and more??!?!
Some of these things are fun, some may become traditions, some will get done once and then forgotten about – but are we not creating too much pressure on ourselves to try and make the whole Christmas thing THE  most magical moment EVER that it becomes stressful and a chore – Christmas shouldn't be a chore.
I stopped writing Christmas cards years ago, I will send one here and there sporadically but I certainly don't sit down and do that each year as I haven't got the time, I am busy enough trying to order the presents, wrap the presents, post the correct presents off to the correct people, order the Christmas meat and sort out the tree. Sorry but I don't have the time to do all of the other stuff as well, yet a part of me questions when I see everyone else doing it all – are my kids missing out? am I doing enough? am I a bad mum?
I know in reality, that I am doing enough, I know that what my boys don't know, don't care about and to be honest even if they did know, at this stage they don't  really understand nor care for so I'm not falling into the trap just yet. But what I do worry about is the thought that some poor harassed, hard working parent who is scrolling through Facebook as they escape to the loo for five minutes is inundated with all this 'Magical Christmas Wonder'. Is this like everything else on social media a push to create perfection?
Do we not need to get back to basics a little bit more? Do we not need to just tone it down a little – if we pour all this 'wonder' all at once into Christmas, where do go from here? how do we raise the bar? By bringing out another stupid fricking social media fuelled 'tradition'?!?!
I'll leave you to ponder that one whilst I go away, dress my family in festive jumpers, build gingerbread houses, scatter reindeer poop around the garden whilst leaving troughs of sparkling reindeer food and concoct some science experiment whereby I can recreate Santa's footprints across my house on Christmas Eve.
Holy Cow I've just googled Elf on the Shelf and the official website has 'adoption centres' 'creative elf packs' and a couture section – I mean COME ON!!!